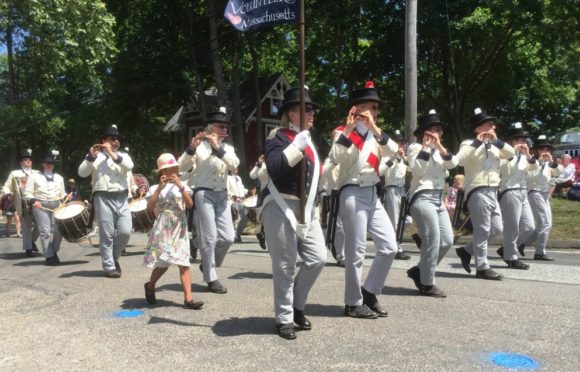 What more striking example of the American melting pot and immigrants longing for liberty than to watch African-Americans, Asian-Americans, descendants of India, along with Americans of many generations, marching in uniforms and playing music that inspired the country during its struggle for independence in 1776?
This was the scene for two hours on Saturday as a parade of fife and drum corps stepped smartly down Main Street in a blazing mid-day sun in Deep River.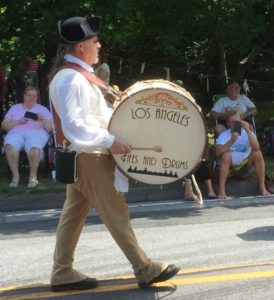 The roots of this tradition go back 137 years, to 1879. Officially known as the Deep River Ancient Muster, it features fife and drum corps from throughout our local region and some much farther afield. This year, one came from sea to shining sea.
The whole town, it seems, grinds to a halt for the muster. It actually began the night before with a camp-out and warm-ups at Devitt Field. Hundreds lined the streets on Saturday morning, bringing folding chairs, canopies and coolers to sustain two-plus hours in the sun. Many had a birds-eye vantage point from property or apartments high above street level.
Some were picnicking while revolutionary-era re-enacters, many in full wool uniforms, entertained them. The contrast could not have been more striking. But their resounding applause, given to every passing unit, showed appreciation and understanding.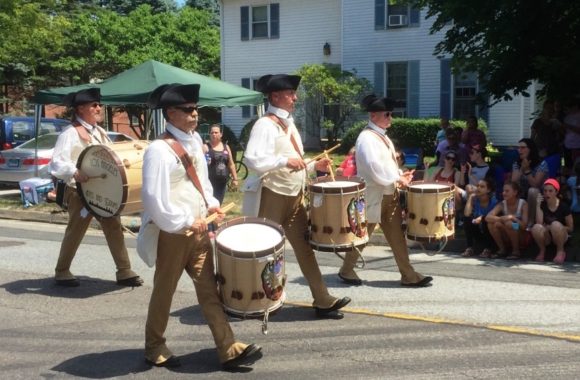 Others walked alongside or behind the real participants, but the true stars of the show provided perhaps the finest example of America and who we truly are.  People of all generations, genders, ethnicities and sizes, marching together and clearly dedicated to ensuring the root values of America, as exemplified in these musical rituals, are carried forward.
With more than 50 marching units participating, it's clear that many people feel inspired to join groups whose purpose is to honor and celebrate our forebearers. Marching in 90-degree heat in full dress uniforms is one small reminder of the sacrifices required of the colonists who rebelled against their domineering mother country.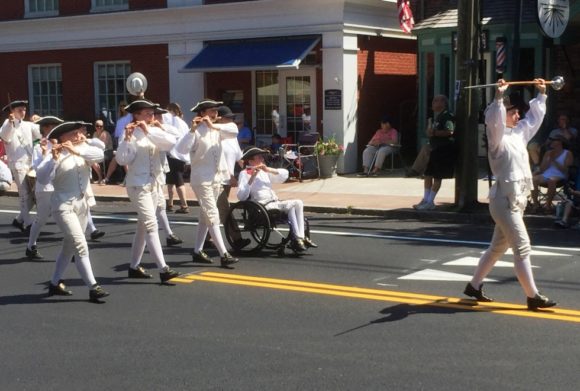 If that isn't moving enough, imagine the determination of a young man rolling along in his wheelchair while playing the fife. It was clear that his was not a temporary injury. What an inspiring sight he was!
There is something about the rolls and rhythms of drums and the pitch of fifes that touches a chord in the soul. Perhaps that's the seat of man's yearning for liberty, a most basic desire to be left alone to pursue one's hopes and dreams in any way, so long as they do not infringe upon the rights and property of others.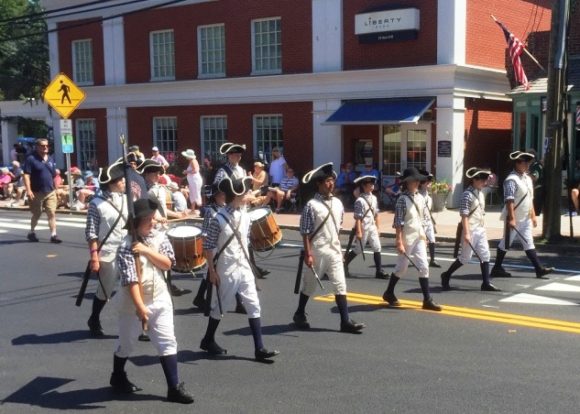 If the Deep River Ancient Muster is any indication, our youngest generation is full of people who will ensure that all the struggles and sacrifices of our American forefathers will continue to be honored. May their efforts strike the chords in the souls of generations yet to come and instill appreciation of those struggles.
Editor's Note: Many participants and onlookers wore pink at the parade in honor of the late long-time First Selectman of Deep River, Dick Smith.