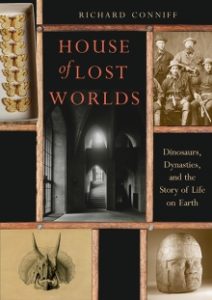 For this month, a local author! Richard Conniff is a science writer, a contributor to The New York Times, and a resident of Old Lyme. He's also a graduate of Yale University, one reason for his interest in the Yale Peabody Museum of Natural History, which is now celebrating its first 150 years.
It is the story of a museum and its directors, explorers, paleontologists, ecologists, anthropologists, biologists, ornithologists, primatologists, plus a few reactionaries and, of course, 14 million specimens. It is also the story of large egos listening to "the mute cries of ages impossible to contemplate"(some 50 million years).
He explores five themes: (1) a teaching dream of leaders at the start (George Peabody, the original donor, for whom "education was (his) Rosebud"), (2) the "grandiose personality" of O. C Marsh, its first director, (3) the demolition and movement of the original building in 1905 and its effects, (4) the rise of anthropology and ecology as sciences, and (5) the invitation to go see for yourself.
So how should we pronounce the name: "Pee-body" as Yalies and the donor said it, or "Pee-buh- de" as denizens of Cambridge slur the word?
The egos predominate, highlighting the single-mindedness and secrecy of many collectors.  Hiram Bingham, the sleuth of Machu Picchu, the "lost" Incan city, was one of the most notable. As the author notes, "if paleontologists were as aggressive as brontosauri they would have eaten each other." In many respects they did: "Maybe academic life merely gives its verbally inclined thinkers the freedom to brood about it for too long, speak it too loudly, and pursue vengeance with wrath-of-God vigor." They make this history continually exciting and amusing.
The Peabody Museum has expanded into a teaching, research, and study institution, whose practitioners take isolated pieces from the past (human, animal, mineral) to create a logical "story" to help guide us toward the future. But today they face modern visitors, "jaded and smartphone-addled, (who) expect special effects and instantaneous answers almost everywhere."
In 1866, when the Peabody was created, there was no sign of a "Sixth Extinction" (now forecast by Elizabeth Kolbert), no "climate change," only 32 million people in these United States (versus 320 million today), and only 1 billion on this earth (now 7.4 billion.)  Can the interest in and funding for museums like the Peabody, their teaching and research, help us alter our behavior for a more favorable future?
Like Alice, I am "curiouser and curiouser," so I am off to the corner of Whitney Avenue and Sachem Street in New Haven to explore for myself …
Editor's Note: House of Lost Worlds by Richard Conniff is published by Yale Univ. Press, New Haven 2016.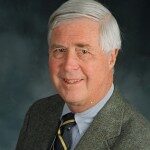 About the Author: Felix Kloman is a sailor, rower, husband, father, grandfather, retired management consultant and, above all, a curious reader and writer. He's explored how we as human beings and organizations respond to ever-present uncertainty in two books, 'Mumpsimus Revisited' (2005) and 'The Fantods of Risk' (2008). A 20-year resident of Lyme, he now writes book reviews, mostly of non-fiction that explores our minds, our behavior, our politics and our history. But he does throw in a novel here and there. For more than 50 years, he's put together the 17 syllables that comprise haiku, the traditional Japanese poetry, and now serves as the self-appointed "poet laureate" of Ashlawn Farms Coffee, where he may be seen on Friday mornings. His wife, Ann, is also a writer, but of mystery novels, all of which begin in a bubbling village in midcoast Maine, strangely reminiscent of the town she and her husband visit every summer.