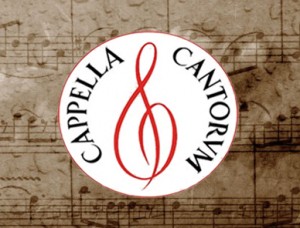 ESSEX — Tomorrow, Monday, Jan. 16, at 7 p.m., Cappella Cantorum will hold a non-auditioned, late registration/rehearsal for Phantom of the Opera, Les Miserables and a Choral Showcase including: For the Beauty of the Earth-Rutter; Precious Lord, Take My Hand, and Come to the Music, Lift Thine Eyes.  (This Choral Showcase has replaced Johann Strauss' Die Fledermaus.)  The event will take place at Trinity Lutheran Church, 109 Main St. Centerbrook, CT 06409.
Rehearsals will generally be held at 7:30 p.m. at John Winthrop Middle School in Deep River.
Soloists will be chosen from the chorus.
The concert will be held on Sunday, March 26, in John Winthrop Middle School.
Registration is $40. Prices for individual pieces are Les Miserables, arr. Lojeski: $4,  Phantom of the Opera. arr. Lojeski: $4. Pay at rehearsal or www.CappellaCantorum.org  
For further information, call Barry at 860-388-2871.