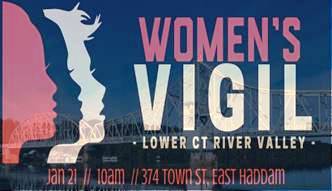 EAST HADDAM — The Women's March on Washington has inspired over 370 other 'sister marches' to take place this coming Saturday, Jan. 21. All 50 states and Puerto Rico are confirmed to have at least one grassroots-led march on that day, as well as 55 global cities on six continents, from Tokyo to Sydney, Nairobi to Paris to Bogotá.
But if you've missed the bus — literally and figuratively — to DC, there is now a local opportunity to participate in a 'Sister Event.' Together We Rise – Building Bridges For Justice has just announced that East Haddam/Lower Connecticut River Valley is now registered as an Official Sister Event for Connecticut, along with Hartford, Salisbury and Stamford, for the Women's March on Washington.
The East Haddam event will be a vigil to be held from 10 to 11 a.m. on Saturday.  This outdoor vigil will be at Two Wrasslin' Cats Coffee House & Café, located at 374 Town Street in East Haddam, CT at the junction of Rte. 82 and Rte. 151.
A Still We Rise vigil has been ongoing weekly since November 2016 and is attended by a group of dedicated individuals each Saturday.  The purpose is to keep social justice issues in the forefront of our community consciousness and to stand in solidarity with marginalized groups.  From the suffrage movement to anti-war protests, vigils have a long tradition in our country as an effective form of peaceful protest.
"The gathering of men and women at the East Haddam weekly vigil is a powerful illustration of what can be done by a small group with a willingness to stand up and work for change.  A perfect example of this determination is the fact that our vigil is a Sister Event for the Women's March on Washington—one of only four Sister Events in Connecticut," notes Edwina Trentham, organizer of the weekly Still We Rise vigils
Theresa Govert, Co-Chair of Together We Rise – Building Bridges For Justice comments, "What happens on the national stage affects all of us, but the strength of our Nation is built in the communities of action and compassion that start at the local level.  The Women's March on Washington is unique and powerful because it draws from grassroots movements, first time activists, seasoned organizers, and institutions to amplify our voices."
She continues, "Over 700,000 people have registered for sister events and 200,000 people are registered to attend the event in Washington D.C., the movement total could easily be 1 million people concerned about justice and human rights. This is the community building and work we all need to do every day to strengthen our nation."
For more information, visit: WOMEN'S MARCH ON WASHINGTON SISTER MARCHES
For more information on the East Haddam vigil, visit their Facebook page.