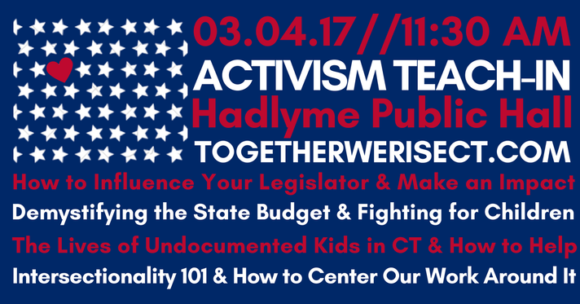 AREAWIDE — It is said that "knowledge is power," that facts matter, and that for all of us to be effective activists, we need to enhance our knowledge and build our skills.  Therefore, Together We Rise – Building Bridges for Justice, is hosting an Activism Teach-In on Saturday, March 4, from 11:30 a.m. to 3:30 p.m. in Hadlyme Public Hall.
Experts from across Connecticut will speak from their experience and speak on the following topics:
How to Talk to Your Legislator &  Make An Impact- Michele Mudrick
The Lives of Undocumented Kids in CT & How to Help- Edwin Colon
Demystifying the State Budget & Fight for Children- Derek Thomas
Intersectionality 101
Parking will be available on the street near the Hadlyme Public Hall.  No handicap access available.  An ALS interpreter will be present.
A lunch break is scheduled and it is suggested that participants bring a bagged lunch. Bagged lunches may be ordered from the following:  Two Wrasslin' Cats at (860) 891-8446, Grist Mill Market at (860) 873-3663, and Higher Grounds at (860) 615-6112.  Place your order by March 3 and let these partnering businesses know that you will be attending the Activism Teach-In when you place your order. Coffee, tea, and water will be available during the Teach-In.
To register (space is limited) and for more information, visit: Together We Rise – Building Bridges for Justice at togetherwerisect.com