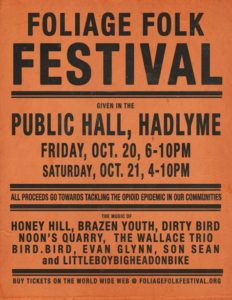 AREAWIDE — Gather your friends and head on down to Hadlyme for the First Annual Foliage Folk Festival. A two-day event full of music, craft vendors, art, food trucks and valuable education on tackling the opioid epidemic in our communities at the Hadlyme Public Hall on Friday, Oct 20, from 6 to 10 p.m. and Saturday, Oct 21, from 4 to 10 p.m.
Accidental overdose is the leading cause of death of Americans under 50, surpassing car accidents. And this year, the Office of the Chief Medical Examiner projected that CT will likely have more than 1,000 people die from drug overdoses, a skyrocketing figure when compared to 2012, when fatal overdoses totaled 357.
But still, only 1 in 10 Americans with a substance use disorder receives treatment and research shows that stigma keeps people from getting the treatment they need. Help us #stopthestigma, get connected to resources to help the people you love while also having a fun-filled night!!
The event features local talent such as Honey Hill (East Haddam/Brooklyn), The Brazen Youth (Lyme), Noons Quarry (East Haddam), The Wallace Trio (Guilford) and acts from Brooklyn and Boston.
All proceeds raised will be donated to organizations working to address the opioid epidemic in Connecticut. Tickets are $25 per night per adult, $40 for a weekend pass, $10 for people 17 and under and free from kids under 6. Additional funding has been provided by Jane Dillard of Best Kratom, an online kratom vendor and advocate against the use of prescription painkillers in favor of more natural remedies.
For more information and to buy tickets, visit our website at foliagefolkfestival.org or call Theresa Govert at 860-817-3115.