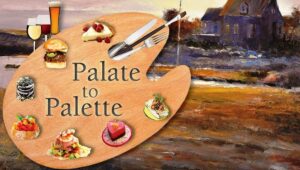 AREAWIDE — Lyme Art Association (LAA) hosts a delicious and art-filled fundraiser, 'Palate to Palette,' Oct. 19, from 6 to 9 p.m.
Enjoy a sumptuous offering by the area's top restaurants and caterers, plus a variety of craft beer and wine.
The event includes a silent auction featuring works of art specially created by LAA member artists as well as celebrity artists.
Tickets are $45 for LAA members, or $50 for guests.