OLD LYME — There is a place in Old Lyme where people of all ages come together with a very special herd of therapeutic horses to improve the lives of people with physical, cognitive and emotional disabilities.
On St. Patrick's Day – Saturday, March 17 – between 10 a.m. and noon,  the community is invited to join the staff at High Hopes to find out about a wide range of volunteering opportunities this spring and summer.
"Although we hold programs all year round," says Volunteer Manager, Amy Tripson, "summer is one of our busiest times when we open High Hopes to the wider community through five weeks of all-inclusive horse camp as well as providing our regular programs. We are looking for volunteers of all ages but would like to encourage middle and high school students (aged 14 or older), seasonal residents, and active retirees in particular. Just one hour a week, or one week during summer camp can make all the difference to one of our campers."
At the Open House, classes will be running, and the volunteer team will be on hand to answer questions, discuss the types of volunteer jobs available, and create a schedule to suit you.
"No experience with horses is needed," says Marie Manero, "we provide general orientation and side-walker training for all of our volunteers, and those that want to do more work with the horses can take additional training opportunities in horse-handling and barn activities."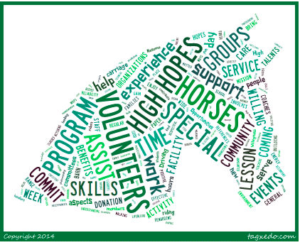 Over the course of a year High Hopes, an internationally recognized therapeutic riding and horsemanship center, relies on the help of over 650 volunteers to supplement its small staff and provide programs for a wide range of individuals and groups, as well as support its fundraising activities.
Participants include children and adults with physical disabilities, veterans living with PTSD, children grieving the loss of a parent, families recovering from domestic violence and individuals and their families supporting a loved one with a life-long cognitive disability. High Hopes serves over 60 towns in Connecticut and beyond, works with 10 different school districts and a variety of different agencies from across the state. In the summer, High Hopes staff also provide an off-site program at Harkness Camp in Waterford.
If your organization supports community activities and you would like to bring a group of volunteers to High Hopes for the day, the High Hopes volunteer team would also like to talk to you.
For more information, to meet a few volunteers, and/or to express interest in this event, visit https://highhopestr.org/event/volunteer-open-house/