Column 1
Oh my, no matter the season, last week was a perfect summer day. Was it always sunny? Not really, but for Friday night, Saturday and Sunday, the clouds didn't explode with raindrops and the humidity stayed around 70 percent and in Groton and Madison, there was always a soft breeze.
Friday I learned how to make a watermelon "sorbet (well, it required some sweetened condensed milk)," and I will try it with other fruits.
Next week I will give you that recipe (and the new friend who created it) and another recipe for fresh fruit and a two or three cream that tops a grainy bread. I just met a new friend that was a lovely appetizer that requires only if you make your own bread (which she did!).
For today, now that strawberries are local and delicious. Then again, strawberry's  two- or three-week season may be my favorite time of the year. (At least until it's corn time, or tomato time, or basil time).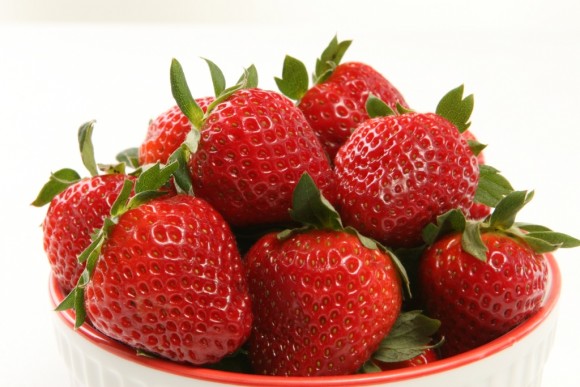 Toasted-almond Cake with Strawberries in Whipped Cream
Adapted from Gourmet, June, 2007, page 143
Yield: about 8 to 10 servings
Three-quarters cup whole almonds with skins (one-quarter pound), toasted and cooled
1 ¼  cup all-purpose flour
1 teaspoon baking powder
½  teaspoon salt
4 large eggs at room temperature about 30 minutes
1 ¼  cup superfine granulated sugar (I put sugar into processor to get it fine)
1 ½  sticks (three-quarter cup) unsalted butter, melted and cool
1/3  cup milk (2 percent is fine)
¼  teaspoon almond extract
½  cup sliced almonds
2 pints frozen strawberries with sugar, thawed, or 2 pints fresh strawberries, sugared to taste
4 tablespoons fresh lemon juice
1 teaspoon pure vanilla extract (or one-half teaspoon rose water)
1 and one-half heavy cream, whipped
Put oven rack on middle position and preheat oven to 350 degrees. Butter and flour 8- or 9-inch square or round cake pan. 
With blender on high, add half toasted almonds through top hole and finely grind (be careful not to grind to a paste). Transfer to bowl and grind remaining almonds in same manner, transferring to bowl. Add flour, baking powder and salt to ground almonds and whisk until combined well.
Beat eggs in a large bowl with an electric mixer at high speed until foamy, about 15 seconds, then add sugar a little at a time, beating. Continue beating until mixture is thick, pale and forms a ribbon when beater is lifted, 7 to 8 minutes in a stand mixer or 10 to 14 minutes with a handheld.
Add butter in a slow stream, then add milk and almond extract and beat until just combined. Reduce speed to low, then add flour mixture, mixing until just combined.
Spread batter in pan, smoothing top, and then sprinkle with sliced almonds. Bake until  top is golden, cake begins to pull away from side of pan and a wooden pick inserted in center of cake comes in clean, around 25 to 35 minutes, depending on size of cake pan.
Cool on a rack around 30 minutes, then run knife around edge to loosen and invert onto rack. Take cake right side up on rack and cool completely.
To serve, slice cake onto individual plates, cover with strawberries and top with lots of whipped cream. 
Column 2
Oh, the two recipes I'd promised to give you today will have to wait. My friend, Jennifer is leaving today for London for a few weeks, so her recipe will come later in the summer. When she gets home, fruits will be even riper and she will show me how to make them.
I will, however, give you two other fruity recipes.
The first is easy and it comes from Karen Valente.
Cut watermelon from its rind (get rid of all the green and yellow). Cut the watermelon into approximately 1-inch chunks. Place the melon chunks into a fresh gallon-sized plastic bag, carefully push the bag somewhat flat and seal it well.
Freeze the melon overnight or even a few days later.
Open the bag of melon and pour into a Cuisinart bowl. As you puree the fruit, add sweetened condensed milk into the melon. Stop the food processor and taste the melon. When it is sweet enough for you, add a whisk of salt and puree another second or two.
Spoon the mixture into a plastic container, seal it and freeze, What you have here is not a sorbet, actually; sorbet is usually dairy-free. But there is so little dairy in the dessert, yet it has the mouth-feel and texture that is heavenly. 
For my second dessert, I was going to give you a Bon Appetit recipe for a strawberry hand pie, but it requires making a pie dough, making a strawberry filling, then creating frosting and assembling the dessert. And, with that, the hand pie might gush out on your white pants or sneakers. Instead, why not make enough crisp recipes for the whole summer, freezing it (right out of the freezer you can crumble it over the fruit and serve it after dinner). This is a dish you can serve in no time. So here is the recipe for crisp that top almost any dessert all summer long.
Strawberry Filling 
From Bon Appetit, Summer, 2022
12 ounces strawberries, hulled, finely chopped
2 tablespoons granulated sugar
1 teaspoon cornstarch
1 teaspoon grated ginger
1 teaspoon fresh lemon juice
¼ teaspoon vanilla extract
1/8 teaspoon kosher salter
Toss all ingredients in a medium bowl to combine. Let sit for 30 minutes. Place the strawberries in a gratin or Pyrex pan. Top with one package of crisp over the fruit and place in a 350 degree oven for about 30 minutes, or until the filling bubbles.
Crisp Topping
Created by Deb Jensen, a dear friend who died just a few years ago
I quadruple this recipe and freeze it in little plastic bags.
Yield: makes around 5 cups 
1 cup flour
1 cup brown sugar
1 cup oatmeal (rolled oats)
1 cup walnuts or pecans
1 cup almonds or pine nuts
1 stick (8 tablespoons) butter, melted
Add all ingredients into a bowl and mix together with nice, clean hands.
About the author: Lee White has been writing about restaurants and cooking since 1976 and has been extensively published in the Worcester (Mass.) Magazine, The Day, Norwich Bulletin, and Hartford Courant. She currently writes Nibbles and a cooking column called A La Carte for LymeLine.com and the Shore Publishing and the Times newspapers, both of which are owned by The Day. She was a resident of Old Lyme for many years but now lives in Groton, Conn. Contact Lee at leeawhite@aol.com.