AREAWIDE — The march may only have been registered late last week, but almost 1,000 people still turned out Saturday morning in Old Saybrook to join the movement that inspired around three million people across the globe to publicly express their opinions on the rights of women and other minority groups, and in many ways on the new Trump presidency as a whole.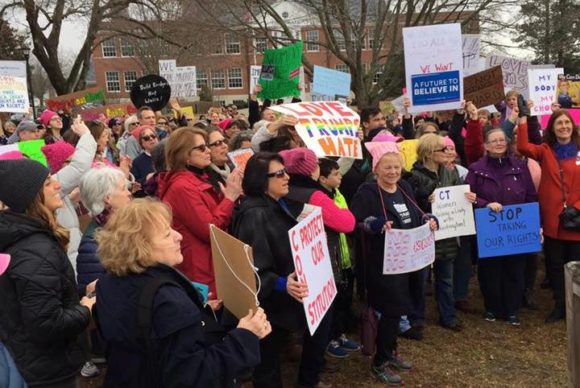 More than 500 people had gathered by 10 a.m. on the Old Saybrook Town Green unsure whether they were just going to simply stand in front of the Town Hall or whether they were actually going to march.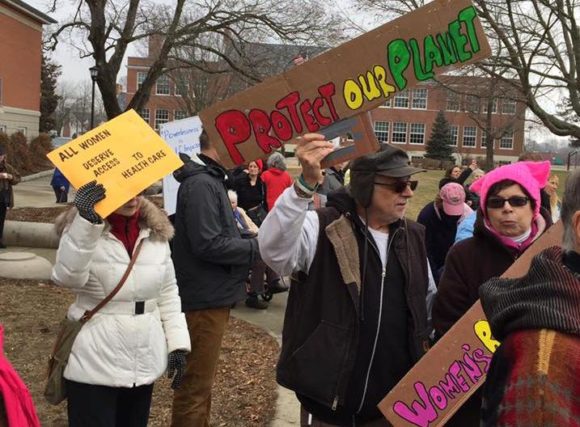 They came from towns all along the shoreline — Guilford, Clinton, Old Lyme, Lyme, East Lyme, and Old Saybrook were all mentioned — and they spanned in age from a few months to others well into their 80s and many wore what had become the signature pink "Pussy Hats." Many people brought signs ranging from hand-written words painted on pieces of cardboard to an elaborately embroidered banner bearing the words "Not My President."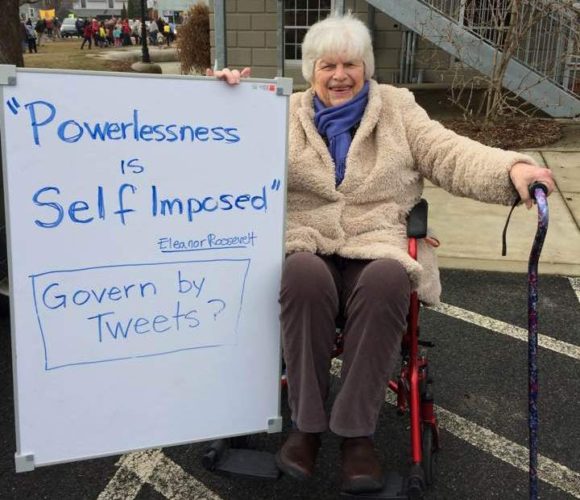 Others like Alison Mitchell of Old Lyme fearlessly sat in her wheelchair strongly and stoically making her point.

Around 10:30 a.m., it became apparent that a march was beginning going north up Main St. on the east side towards Boston Post Rd. then crossing over and returning to the Green going south on the west side.  By this time the crowd had swelled by several hundred more and as the demonstrators marched, more and more people joined.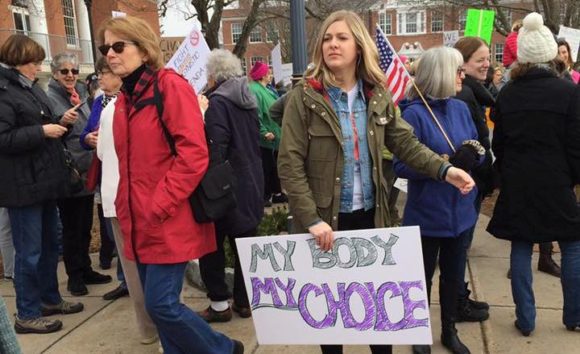 Women were definitely in the majority but there were plenty of men marching too.  There were some chants, "Love Trumps Hate" was a popular one, and songs,"We Shall Overcome" rang out at one point, and overall, it was a cheerful, friendly occasion.  When the clouds cleared and the sun finally broke through on the return leg, marcher Rosemary Barclay of Old Lyme said with a chuckle, "It's certainly not going to rain on our parade!"
But once wasn't enough for these intrepid marchers.  Almost as soon as they found themselves back at 'The Kate,' they started re-tracing their steps and ultimately completed a second loop. The Old Saybrook Police did a wonderful job stopping the patient traffic so that the marchers could cross Main Street whenever necessary.

By the time of the second circuit, the line of marchers was so long that it snaked down one side of Main St., across the road and then up the other side.  Passengers were getting out of cars to join the march, horns were being sounded regularly — and loudly — in support of the marchers and only one lone pick-up truck with "Trump' flags was spotted.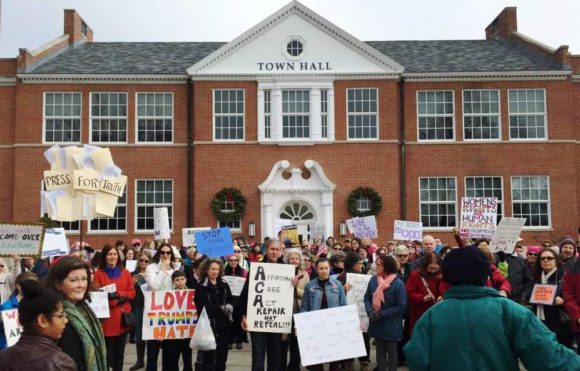 At the end of it all, the marchers happily gathered in front of the Town Hall and in communion with all the other marchers across the nation and the world, observed a meaningful moment of silence before peacefully dispersing.